Jamie Davis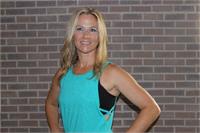 Jamie Davis instructs the following:
If you are looking to boost your metabolism, define your muscles, and focus on isolation of each muscle group this is the class! You'll move through our circuit with complete understanding of what muscle group you are focusing on. Get ready to feel the pump!




This is a higher intensity cardio version of our popular Bionic Circuit class! It embraces a wide range of equipment and movements for a complete full body workout including strength training, abs, and cardio! Time will fly as you work your way from station to station with Cardio Bursts intertwined throughout the workout!



---