Dan Bohenek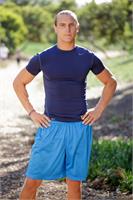 Dan Bohenek instructs the following:
Want to take a break from all the cardio and just focus on those muscles? Get your pump on in this class as we drop the heart pounding cardio moves and focus on toning and strength training.




An all encompassing class for the athlete in all of us! Develop your skills whether you are a weekend warrior or a serious competitor with functional movements that strength coaches use to train professional athletes! You'll be faster, stronger, and all around more athletic! This class is modified for all levels.




Focus on your Quads, Glutes, and Hamstrings in this leg crushing work out!




This class embraces a wide range of equipment and movements for a complete full body workout including strength training, abs, and cardio. Time will fly as you work your way from station to station to complete a series of exercises that are sure to tighten and tone every inch of your body. This class is modified for all levels.



---